Creating a tribe – one blogger at a time
If I told you that Dove gets digital media, you'd probably tell me to go away until I have something newsworthy to add. After all, it's been 4 years since Dove's Evolution video shocked us that one woman's face could change so drastically through touch ups. And Dove's campaign for Real Beauty? It rocks.
But Dove is onto something new and brands who want to engage on social media should take note – this one's a game changer. 
Dove's "Singing in the Rain" video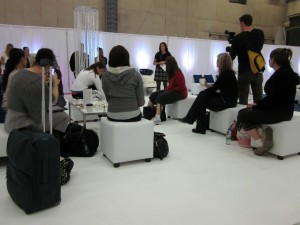 A few weeks ago I received an email inviting me to be part of the making of a new Dove video. I actually thought it was spam at first. But after a phone call to the PR rep I realized I'd been chosen (along with 13 other women) to introduce Dove's new haircare line to Canadian women.
We were asked to be in Toronto on Feb 22, no make-up, hair not done and clear or no nail polish. I asked my 14 year old daughter, Grace, to come with me – partly because I wanted her to be around this fabulous group of women. Partly because I was afraid they'd invited me by mistake and I didn't want to drive home alone.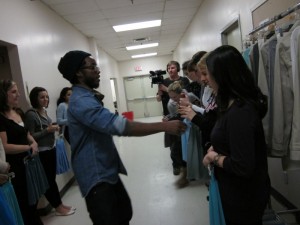 The day began with being separated into 2 groups, which made me feel like I was on Idol (the group at the back, you get to stay). But it turned out to be our dance line. Then we had our first look at the attire – umbrella, raincoat and baby blue rainboots.
The first group moved into the "Beautification Parlor" (it looked like Willy Wonka's Chocolate Factory) and were transformed under the direction of celeb stylist, Mark Townsend (he does Lea Michele's hair on Glee). The second group practiced with Aakomon Jones (he choreographed Usher's OMG video). And then we switched places before coming together to practice as a group.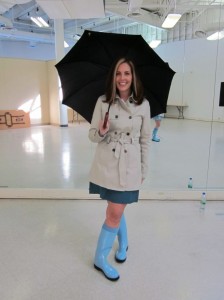 All through the practicing and beautifying, videographers hovered nearby, catching us chatting and tweeting. While Grace wasn't in the video, she videoed, snapped pictures and chatted up a storm – she's a Dove girl in the making.
When our "handlers" moved us to the set (think of a group of school girls being herded), the crew was ready. It was the perfect storm of controlled chaos – people moved swiftly in all directions, fixing lighting, sweeping water into puddles and fussing with our hair and makeup.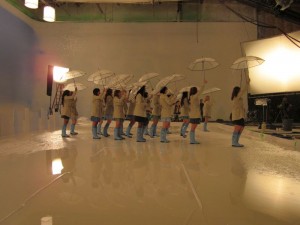 Then we danced. In the rain. I felt like I needed an ark though. Between each deluge, we flocked to the side of the pond for touch-ups and pat-downs. Water was swept into vacuums and then we returned to our positions to do it again…and again…and again. An hour and a half passed, but it felt like a couple of minutes.
Afterward, it was drinks and tapas while the press interviewed Mark and Aakmon.
Dove Canada and Canadian Bloggers
For me, the day was surreal. But what makes Dove's new campaign a game changer? Simple – Dove knows its target audience, knows where they live, what they're like and what they want. But more importantly, Dove speaks their language.
These are just a few of the ways Dove made being in this video a no-brainer for me.
They understand women. Having your hair washed and makeup done professionally is nirvana – even for influential bloggers. At one point, there were 3 stylists working on me simultaneously.
They smiled. Every single person I interacted with seemed genuinely thrilled to be talking to me – even when I asked stupid questions.
They understand women. From stylists to choreographers, they knew we needed encouragement to relax enough to dance in public. Aakomon Jones and his assistant constantly told us how great we were, how light on our feet, how graceful. And I don't care if they lied.
They choreographed the whole day to the minute. No one had to think – we were directed where to be at all times and there was always someone standing by with a clipboard ready to help us if we lost our way.
They managed the details. The first page of the clipboards held a page with each of our pictures on it – along with our names. And they called us by name.
Did I mention they understand women? Grace was not part of the commercial, but they still did her hair and gave her a gift for coming. Every mom there was watching.
They understand social media. No question was off limits, tweeting, picture-taking and videoing was encouraged. Grace's teaser video of the dance number was given a thumbs-up by the PR company.
The official Dove video will be release on March 15 – only to the women who attended – and Dove won't release the video on their site until March 30. The stars of the commercial also happen to be the broadcast channel. And you know what? It's working.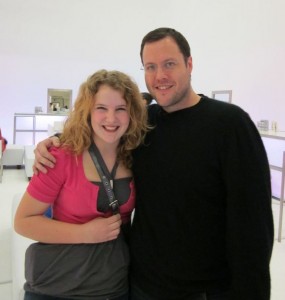 As a social media strategist, I think it's brilliant.
As a woman, I'm honored to be sharing a message of natural beauty with other women. If one woman looks at all of us stumbling in the rain and thinks she could have done that, it's worth it.
As a mom, I'm incredibly happy that my daughter got the message loud and clear. Beauty isn't something you wear or put in your hair. We were drenched during the video, but we were beautiful because we were having fun.
Real beauty is in a genuine smile while you're struggling to remember when to zig instead of zag. It's the way you carry yourself, proud without being egotistical. Real beauty is your willingness to share yourself with the world.
That's a message I can get behind.
 What's your brand message? Does it speak to your target audience, drawing them in and making them feel better, smarter, more beautiful (insert yours here)?
Are you hearing your brand message the way your audience is? Does it need to be tweaked or changed to ensure it's up to date, respectful, relevant (insert yours here)?
Is your brand message creating evangelists or just customers? It's clear I'm now an evangelist for Dove. They make a good product but it's the message that gets me excited – and the reason I'm sharing it with you.
Dove gambled this campaign would ignite the influencers enough to transform them into brand evangelists. It's working …
Everybody Else is Already Taken
Got social media questions? Follow me on Twitter, friend me on Facebook or connect with me on LinkedIn – I'm always on.
To comply with too many regulating bodies to mention and in the interest of transparency, I was compensated for my time by Ogilvy (Dove's PR firm), but the commentary and perspectives are mine and mine only.