Thanks for your interest in SocialNorth!
Remember fax machines and the tipping point when not having one meant looking unprofessional or behind the times? If you're not using social media in your business, it's time to revisit your marketing strategy and look closely at what you're missing.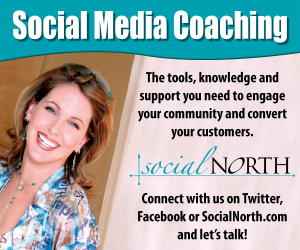 That's where I come in. When you're ready to discuss an integrated marketing plan, the following packages will give you an overview of how you attractive you are online to customers and search engines alike:
SEO audit/diagnosis – A custom look at how your site fares against your competition. I do everything with my own hands and brain – not a program that white-labels the report. I focus on organic SEO – major and minor issues – so you have a clear view of the online landscape.
Social media audit – Not all social media strategies are strategic. Some are just friendly community managers who are good at making friends. I look at how your social media amplifies your onsite message and how it fares in search results. After all, the reason you're on social media is so customers can find you – AND understand more about your brand, right?
Social media and your marketing strategy audit – An integrated marketing plan blends all of your marketing into one seamless message. How does your shape up?
Social media coaching
Ready to dip your toes into the waters of social media but don't want to hand over your brand to a consultant or agency to do it for you? I can help you get what you want out of social media by teaching you to do it yourself.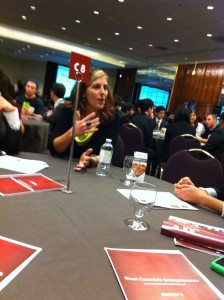 SM Power Session
In this 3-hour coaching session, we'll get to the heart of what matters to you in social media. Unlike long-term coaching, this power session will set you up with the tools you need to make a difference online – and instructions on how to use them more effectively. This session can be split into 2 x 90-minute sessions or 3 x 1-hour sessions.
SM Partnership
This package offers companies a big brother approach to social media with a longer term time commitment. While the steering wheel remains in your hands, I'll be sitting beside you course-correcting on a weekly basis. You'll receive a weekly 1-hour coaching session along with a weekly email that details your activity for the week – what's good and what needs to be tweaked. This package is priced on a monthly basis and can be extended as needed.
If you're ready for a social media strategy that works for your business, please contact me.
Need a speaker for your next meeting or event?
I'm an engaging speaker who energizes  audiences with my humor and expertise. See where I've spoken and who's next on my list and then contact me for your event!
Check out my media page!
Want to know who's writing about me and why? From local to trade to national media, there's something here for everyone. Please feel free to contact me about providing you with expert commentary for your program, article, book or other projects. Interviews by request.