Join us (@SocialNorth) and a panel of small business experts for the #RBCSmallBiz chat, on October 22 at 9 pm, EST, on Twitter. Get answers to your most pressing questions about starting a small business. Canadian participants will also get a chance to win RBC Visa Gift Cards! 
Launching your business & getting smart about your digital real estate
Starting a business on your own has its challenges – purchasing the business licence and registration, choices on sole proprietorship vs incorporation, setting up the accounting, drafting business contracts for clients, meeting with banks –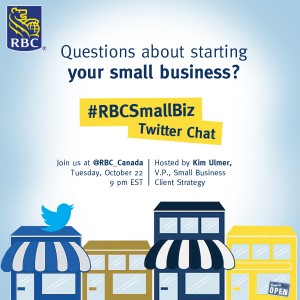 you have much to navigate and need to wear many hats. And that's just to get it off the ground.
But what about marketing?
As a small business owner, the web is about to become your new favourite play space. It offers you a bounty of opportunities to reach deep into communities and influence people who may want or need your products or services. If you're unfamiliar with digital marketing, prepare yourself for a fast-paced learning curve that involves domains, hosting, platforms, Search Engine Optimization and social media.
 Creating your brand's digital assets
Stepping online with your business requires some digital property – your web site name and url. Unique to your brand, yet catchy and memorable, this becomes your chance to claim a piece of the world wide web.
Tips on purchasing your brand's assets online:
Building your digital empire
Now that you've stuck your flag on your digital real estate, what are you going to do with it? Your initial site can be a simple one-page splash page or your marketing needs may require a highly complex design. Depending on your knowledge of websites, platforms and designs, here's where you may need outside assistance.
Tips on launching your initial web site design:
Marketing in the digital space
Your web presence is a necessity in today's business landscape. It's your virtual business card for the business world and without it, you're dead before you even begin. Marketing in this space is where the fun begins …
Tips on marketing your digital brand:
Launching your business into the digital world is as necessary as ordering business cards and flyers. While there's a lot to learn, creating a successful digital marketing strategy is not as expensive as you think.
Curious what advice other bloggers have to offer about launching your business?
Are you looking to launch into the digital space? Let's continue the conversation on Twitter, Facebook or LinkedIn (whichever one works best for you) or leave a comment below.
This post content is sponsored by Royal Bank of Canada, however the views and opinions expressed herein represent my own and not those of Royal Bank of Canada or any other party and do not constitute financial, legal or other advice.