Or how to shake hands, exchange cards & make small talk
Nothing replaces the power of a face-to-face conversation, a handshake or a hug. Nothing.
If you follow me on Twitter, you know I can work the online room like a debutante – I want to talk to everyone. And you also know I share an extraordinary amount of information on social networks. Being online is my business but the networks I use are just tools to help me connect with people. A conversation that takes place in 140 characters or less will never replace a face-to-face conversation.
High Point Furniture market – a networking bonanza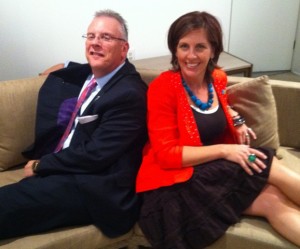 As I write this, I'm in High Point North Carolina attending the bi-annual furniture market, enjoying a lot of face-to-face discussions. As WithIt's 2012 president, it's my mission to better connect our constituents, both online and off, as well as introduce our organization to people who may not know us yet. Trade events like this give me an opportunity to start the conversations in person – and then continue them digitally when I get home.
Face-to-face networking take a lot of time and energy but what makes them effective? Smart business people know it's not the wine, the hors d'oeuvres or the showroom – it's the people. This week I've met some people that make me feel like I'm looking directly into the sun and some that leave me wondering why they bothered to come if they didn't want to talk to anyone.
Below are a few of the lessons I try to live by when I'm at an event to meet people. The list is far from complete so read it with an eye of what you can add.
Be present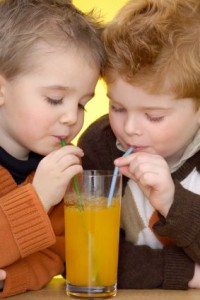 Put your dumb smart phone down and look up and into the eyes of the person in front of you. You might know the person from Twitter or Facebook but you're here now to connect on a human (not digital) level and updating your status robs you both of the gift standing in front of you – each other.
Hint – If it's appropriate, ask someone to snap a picture of the two of you together for sharing on Facebook or Twitter.
Be yourself
No one wants to meet the used car salesman who's glad-handing everyone who walks into the room. The conversation may get around to business – or it may not. Either way, saying goodbye is the best time to ask for a business card – and ask if you can share yours as well. 
Hint – I keep my business cards in my pants pocket or an outside pocket of my purse so I'm not rooting through the Mary Poppins bag when it's time to hand them out.
Be the hostess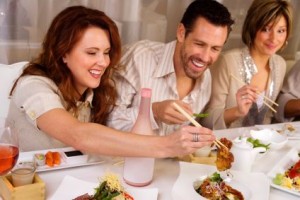 Whether it's your party or not, work the room. Find conversations with 2 or 3 people and jump in. It's easier to join a smaller group than larger one and if the conversation isn't what you were looking for, it's easier to move onto the next.
Hint – If you're stuck in a dead-end conversation, offer to introduce the person to someone or another group. Your ability and willingness to connect will be remembered and appreciated.
Be positive
Networking events are not the place to gossip. Don't let negativity against a mutual colleague be the uniting force in a conversation – because it will never progress past THAT conversation. And who wants to be remembered for that?
Hint – Be careful not to be judgemental. The person sharing with you may see you as trustworthy and not realize their comments are being perceived as gossipy. Gently turn the conversation to something more positive.
Be smart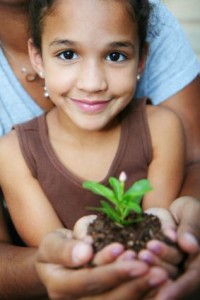 This one should be a no-brainer but it's not. Just because you've chatted with someone on social media and then met them at a networking event doesn't make you BFF's. Keep your filter on and remember that getting in a stranger's car is never a good idea – regardless of your age.
Hint – If you want to continue the conversation, invite others to join you so you're not alone.
Be generous
We all love to talk about ourselves, to make others laugh and to add value to conversations. Build others up by asking about what matters to them. Think of the fodder you'll have for continuing the conversation when you follow up.
Hint – Practice being a journalist and ask questions. Use the 5 W's wisely – if someone's reluctant to share personal information, turn the ship around and focus on business.
When I'm at a face-to-face event, it's all about taking that shortened version of myself and making it more real – and then following up with an email or call. After all, I've never received any business from Twitter – but I have done business with people I met on Twitter.
Social media is a tool, not a connection in and of itself.
Got social media questions? Follow me on Twitter, friend me on Facebook or connect with me on LinkedIn – I'm always on.