She said what about the Windows Phone?
In December, Microsoft Canada asked me to give up my phone during the busiest time of the year in exchange for the Nokia Lumia 920, a Windows 8 phone. As a former BlackBerry user and current iPhone user, I was intrigued at the idea of testing a new platform. I was happy to put the phone through its paces but I wanted a digital native's perspective as well.
Could this phone withstand the onslaught of a 15-year-old girl…
During the Holiday Swap Challenge, my daughter (Grace) and I took weekly turns using the phone. As a blogger and social media user herself, I wanted to see if she'd exercise different features. Turns out that although my daughter connects to those around her differently (and incessantly) her need to sort and simplify information is very similar to mine.
Grace's Windows phone – a teen's take
When my Mom asked if I wanted to try the Nokia Lumia 920 with her for a month, I was so excited. She uses social media for her business but I have a blog, Twitter, Facebook and other accounts as well. Here's what I love most about the phone:
Me – As soon as I open the home screen, I can see everyone who's texted, tweeted or Facebooked me. Everything all at once, all on one screen and in a simple format.
Texting – I send a lot of texts and the spell check is much better on the Windows phone than Mom's iPhone or my evergreen. What's more, I can save drafts of texts when I'm texting more than one friend at once without actually saving it.
Live tiles – I like how the tiles are always doing something and that its super quick to move them around whenever I want. Searching is easier on this phone than on my mom's iPhone, which is great when I need to get online and find information fast. Caroline Fernandez from Parent Club agrees – Windows tiles rules.
Favorite app – I used to read the newspaper for my horoscope but with Horoscope Live, I'm never worried about missing a daily horoscope.
OneNote – I use this every day. For assignments, I can take a picture of the blackboard and add it to my notes so I don't forget what's said during class. For my blog, I can record audio if I don't feel like typing everything out all at once. During Christmas, I used the checklist feature to make sure I didn't forget any of the gifts I needed to buy. I could take pictures of what I saw in stores too – great way to price shop different outfits.
Music – Awesome. I haven't not found a song yet. Xbox Music has everything I want.  Including variations of songs and originals that most music sources don't have.
Games – My favorite games are Blocked In and Flow. When I babysit my 4-year-old cousin I found out that her favorite game was Fun Coloring Book.
Grace's suggested Nokia Lumia 920 improvements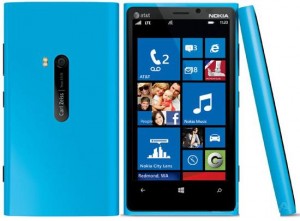 Battery – It doesn't last long enough. I have to take my charger to school to get through a full day. If I have rehearsal after school, my phone is my ride home.
Live tiles and color – The Live Tiles on the home screen can be customized with themes – but I want more options. I want to be able to make each tile a different color, which doesn't seem like too much to ask.
Kids' Corner – I used it with my cousin but it was confusing to set up and difficult to get back to my screen when I wanted to check my messages. For more info on letting your kids play with the phone, read Tara Robertson's review of Kid's Corner.
Julia's Window's phone – an adult's perspective
For some of my fellow Holiday Swap colleagues, I'm sure testing the Nokia 920 felt a lot like rehab – especially the iPhone addicts in the group. But I'm less married to the phone or operating system than I am to the solutions it can bring to my life. BlackBerry answered the call for a while and then iPhone – but both have limitations.
Best feature – For me, the "Me" feature (the same one Grace liked) is triage for my life. My average day is an endless stream of information overload but this feature distills the madness so I can immediately see what's on fire, what's warming up and what can simmer for a while longer.
Best business solution – As a small business owner, the Nokia 920 solves the problem of data integration – seamlessly and painlessly. From phone to tablet to laptop, Windows has my vote for ensuring I'm making decisions based on the most current information available.
Learn more about:
Biggest improvement over iPhone – As a travel writer and sometimes YouTube blogger, the camera on this phone is a clear winner. The camera autocorrects while shooting and pictures are more vibrant and alive. The video is equally impressive, though I have yet to find a mic that I like.
Room for improvement – As a social media professional, I live (and die) by my social media apps. Windows and Hootsuite aren't playing nice yet, so that limits my ability to rely on this phone 100% – but I hear this problem will soon be solved. Chris Read does a great job of reviewing social media apps for the Windows phone.
To comply with the long list of regulating bodies including the FTC and possibly even the Geneva Conventions and in the interest of transparency, compensation for this post was provided by Hart & Galla and Microsoft Canada. Commentary and perspectives are those of Julia Rosien, Chief Idea Officer for SocialNorth.
Have you considered switching to the Nokia 920 Windows Phone? What's the most important feature to you when considering a new phone? Share your comments below or shout out to me on Facebook or Twitter – let's talk smart phones!