Talking Twitter with Michelle Mangen
We're honored to welcome Michelle Mangen, AKA @MMangen, to SocialNorth. Michelle's a 6-figure virtual assistant, single mom who loves Latin dancing, iTunes,  books and horses. She's the oldest of 7 kids from Wisconsin and now lives in Sarasota, Florida.  I've never met Michelle in person but I've followed her and shared with her for years on Twitter and Facebook. This is Michelle's story…
SocialNorth welcome submissions from everyone. Whether you're focused on content, SEO, social media strategy or traditional PR, we'd love to hear from you. Visit our Writer's Guidelines and share your expertise with our community.
I can do "this" ~ thanks to Twitter!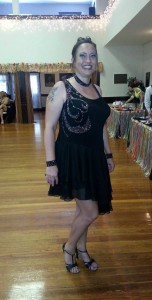 In 2007 I was living in Wisconsin and driving 99 miles one way to work. The winter of 2007-2008 had record snowfall and I often spent more time clutching the steering wheel to avoid the ditch than I spent at my desk working. When spring of 2008 rolled around I walked into my boss' office and told him I was leaving and they would need to find a replacement for me by Thanksgiving.
At the time I had no idea what I was going to do but had always had a "bug" to own my own business. I thought back to a book I had read while on vacation in London in 2006 where the main character was a Virtual Assistant. (At the time I read the book I had no idea if it was a true industry or if it had been made up for the purposes of the novel.)
I started doing some research and realized I could do "this". I hired someone (Dawud) to build my website and during our last phone call on December 11, 2008 he offhandedly mentioned, "Have you heard of Twitter? It could be worthwhile since you're a virtual business."
I had not heard of Twitter and immediately went to join. It was so confusing at first and the only person I "knew" who was on Twitter was Dawud. Being the curious, overachiever I am, I was obsessed with "figuring it out".
In early January I received a tweet from a law firm in New Orleans who wanted to talk to me about doing their bookkeeping. Needless to say I immediately acknowledged Dawud was right. I could get business through Twitter!
I will never forget the excitement of March 17, 2009 when I received my first signed contract from a client that came as a direct result of Twitter (I still work with him).
From virtual to real life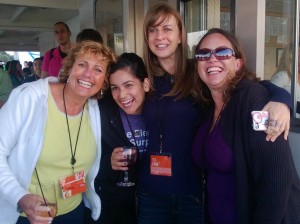 To date I've met 122 people in real life that I first met on Twitter.  So many wonderful things have happened in my life as a result of the relationships I've built (and nurtured) that it would take an entire book to share them. Here are just five of my favorite stories-the nutshell versions, of course.
In November 2009 I was attending a conference in Denver and "accidentally" ran into @JosephRanseth, who I had been following on Twitter for some time. Last summer I was back in WI visiting family and it just so happened he had bought a car about an hour from where I was staying so I went to the body shop to pick up the car (which turned into a crazy adventure!) and he came down from Canada, where he lives, to pick it up.
I've always wanted to live in Florida and after clawing my way through my first year of business I knew I could live wherever I wanted since my business is entirely virtual. I wanted to be on the Gulf side of Florida and in a small town. @VAinParadise encouraged me to check out Venice, FL, where she lived. Though we had only spoken on Twitter and phone, she opened her home and let me stay at her place while I scoped out the area and found an apartment. In July 2010 my son and I moved to Venice, FL. (We now live in Sarasota because of the high school he chose to attend.)
In late 2012 @VAForums and I finally connected on the phone and as a result I am now an instructor for her Virtual Assistant Jumpstart Course that is offered on the Virtual Assistant Forums. At the beginning of July 2013 she let me and @LuzDonahue stay at her house to attend the World Domination Summit in Portland, OR. While in Portland I was honored to be able to meet my business coach (@CharlieGilkey), three clients and ran into numerous other friends I had only known as a "Twitter friends".
In March 2013 a Seattle guy I had volleyed tweets with over the years had text me to say he was going to be in Tampa for work and wanted to know if I'd like to get together for dinner. (My rule of thumb is that I will drive up to three hours to meet Twitter friends who happen to be in the area, so of course I said yes.)  We met for dinner and at the end of the night he suggested we take a trip together to Washington, DC. I thought he was joking (mind you, he was just a friend and not someone I was romantically interested in – that is, until I met him in real life and realized just how cute he was). In June 2013 we went to DC together and now I "like" a guy who lives on the opposite coast. (Though sadly there does not seem to be a way we can pursue anything at this particular juncture in our lives due to other factors.)
Marty and Misty McPadden (@MartyMcPadden and @mistygirlph) were at Disney (Orlando) in late 2012 and we met for dinner.  Since then I've been a guest on their Inspiring Connections show twice and was also able to see them when I was in DC in June. Marty and Misty are a social media love story and Misty has been my confidant/sounding board with Seattle guy (for which I am so incredibly grateful).
Professionally speaking Twitter has brought me success. My business launched in December 2008 and by 2011 I was earning six-figures. Of my current 27 clients 38% of them are a direct result of Twitter and another 50% are word of mouth referrals from the above mentioned 38%.
I can honestly say, without any hesitation, the relationships I've built on Twitter are responsible for where I am today. Without it, I'd be "less" fulfilled – both personally and professionally.
Michelle's 6 simple ways to sow the seeds of relationships on Twitter
Optimize your profile. Use a photo of yourself – people are more likely to engage with a "human" vs. a logo. Completely fill out your bio and use it to give some insight into who you are and what you love (if you take a look at my bio you will learn a lot about me in just 160 characters)
Build your network. Use the free version of SocialOomph to set up keyword alert emails to help you find people who tweet about things you are interested in. Review their profile, follow them and send them a personalized @ message (you'll do much better if you reference something of interest in their bio).
Participate in Twitter Chats (a huge list can be found here). Tip: This list can also help you find some hashtags to use for finding other like-minded individuals.
Be diverse. Share other people's content, retweet, talk, be real and you will become known as a person who provides resources, is authentic and caring.
Connect and Introduce. Know someone that someone else should follow? Introduce them and include why you are doing so.
Be consistent and patient.  As cliché as it is – Rome was not built in a day. Twitter requires consistent, daily work in order to be truly effective.
Do you have a social media story to share? We'd love to hear it – on our blog or on social media, of course. Follow us on Facebook, Twitter or LinkedIn and let's continue the conversation.
About Michelle Mangen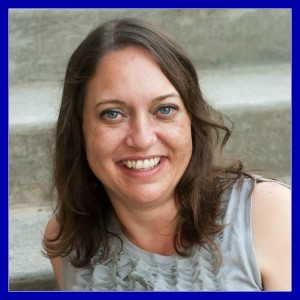 Michelle Mangen is a successful virtual assistant earning six figures after just three years in business. She's a full-time, single mom to a teenager and understands the challenges of running a home-based business and being the sole source of income.  She's also an Instructor for Virtual Assistant Forums "Virtual Assistant Business Jumpstart" online course.
Some of her favorite things in life include reading, music, family (she's the oldest of seven), travel, and Latin dance. Catch up with Michelle online:
.