Talking Twitter with Greg Lehman
We're honored to welcome Greg Lehman, AKA @Spike_Mobile to SocialNorth. Greg is the marketing brains behind Spike|Mobile and one smart guy. Greg and I met at Canada's first 140 Conference in Waterloo and his star has been rising ever since. This is his story…
SocialNorth welcome submissions from everyone. Whether you're focused on content, SEO, social media strategy or traditional PR, we'd love to hear from you. Visit our Writer's Guidelines and share your expertise with our community.
The salesman
Spike|Mobile began as an idea and I put my hand up for role of salesperson. I'm talkative, outgoing and I'm rarely shy to introduce myself to someone I haven't met before. Besides I thought, I did "sales" at the bank – how hard could this be?
I picked up the phone and started dialing. "Hi how are you doing? We haven't met before, it's Greg from Spi.." Click. Hmm, that's strange. Ah she's probably having a bad day. Another number and click. Click. Click. Click. "Don't ever call back here again!" Click. Jeez! This sales thing sucks.
I soon learned that someone walking into the bank to renew a mortgage or talk about investments was an entirely different ballgame from b2b sales for a brand new start-up.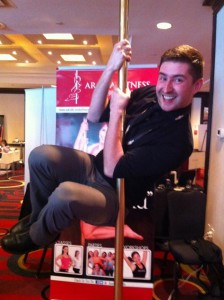 So I started reading about cold calling and how to be a better salesperson. I read book after book on becoming 'this' and finding 'that' – each one promising secrets to unleash my inner champion. With new ammunition and another spark of confidence, I went back to the phone and started from the bottom of the list this time. "Hello, this is Greg Lehman calling from Spike|Mobile…" Click. Click. Click….. Click. What the?
Back to the books. I stumbled upon a book by Scott Straten. He talked about Twitter and although I was an avid Facebook user for personal reasons, I thought of Twitter as mostly useless. But fed up with cold calling, I decided to setup a Twitter account. I knew from reading UnMarketing that I had to build relationships so I talked to everyone.
At my peak, I was tweeting between 180-200 times per day and spending 12 – 14 hours a day on Twitter. Was it crazy? Definitely. But I was starting to witness something happen: a community was developing right before my eyes. Mentors, partners, competitors, new friends and the most wonderfully positive and inspiring people all become a regular part of my life.
I'm not sure many of my Twitter friends realize the deep impact they've had on my life. Witnessing so many different lives and hearing so many different stories challenged me to take a more thorough look at my own. Hiding inside of a closet is a lonely and dark place. It can be terrifying to come out of when you think you're going to be all alone in a big unfamiliar world.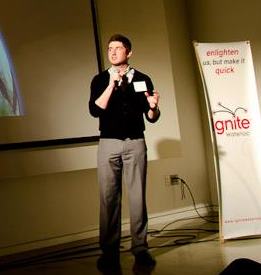 The most incredible gift Twitter has given me is the strength to look at myself through a new set of eyes. To believe in all of the great things that I have become and to vividly dream of the amazing chapters I still have yet to write.
When you share your true self, you attract the right kind of people into your world. Part of meeting new people on Twitter has meant that I've reinvented myself. I asked myself questions like "who am I when no one else I know can define me? Who do I want to be?"
Without a doubt these past couple of years have been the most challenging in my life thus far. I've been hit down hard more than a few times, but I've always had a crowd to cheer me on and throw me back in the ring, encouraging me to take another swing.
The opportunities I've had and relationships I've built have been more abundant and profound than I ever could have imagined. My entire life has changed somewhere within the last 32,000 tweets.
But wait, that's not all…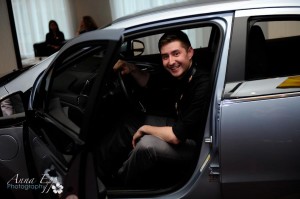 Two years in a row I've had the honour of organizing the KW Polar Plunge for KidsAbility. It began on Twitter, but has had a real life impact. This past January, we raised more than $7,000 to support the thousands of children and youth who use the services of KidsAbility.
#LunchUpGuelph started off as a conversation between a few people and has turned into a monthly meeting with a steady and revolving group of about 35 attendees. In its own way, it symbolizes exactly what social media is all about: warm welcomes, hugs and a melange of people and personalities.
More recently, I've had the opportunity to contend for the role of Social Media Ambassador for Mercedes-Benz Canada. It's been a hard fought battle, but by now I am a seasoned fighter. I took to the challenge trusting my online community would be in my corner and we brought on a barrage of energy that helped me to hold a position at the top of my category
My Twitter advice
Be you. There's only one of you and that's who the world is dying to meet. Be authentic when you talk to people. They'll feel the difference and so will you.
Give before you get. The more you share and connect with other people, the more you'll get back from it. Share your true stories and help others to learn from the journey you've been on. Rome wasn't built in a day and it certainly wasn't built by one person. Find out how you can help one another.
Attend tweetups. Twitter is great but sometimes it's just an introduction. Alternatively sometimes you'll meet in person and then develop an even deeper relationship when you connect online. In either case, meeting people in real life (IRL as twitterfolk say) deepens relationships and strengthens bonds.
Be open to new ideas and be positive. Keep it friendly. Be inspiring and you'll find that's what comes back to you. We all go through bad times and we all have strong opinions about certain topics. Don't share what you wouldn't want your kids to read.
Just go for it! Life isn't a straight road and it would be boring if it was. Keep going. You might feel alone at first but you'll find your place if you look hard enough. I couldn't picture my life now without the people that I've met on Twitter.
Read more profiles on SocialNorth
Do you have a social media story to share? We'd love to hear it – on our blog or on social media, of course. Follow us on Facebook, Twitter or LinkedIn and let's continue the conversation.
About Greg Lehman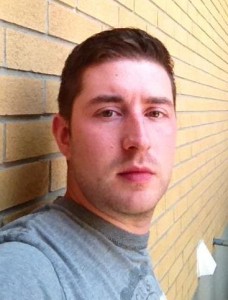 Greg Lehman is one of the founding members of Spike|Mobile, a marketing company based out of Waterloo Region. When he's not busy working or taking a Plunge into freezing cold water, you'll find him lost in the forest with his dogs Dakota & Casey. He also enjoys cooking, travelling and writing about himself in third person. Connect with him here at about.me/GregLehman.
Got a social media story to share? Check out our blogger guidelines or catch up with me on Facebook, Twitter or LinkedIn.