A social media lesson, courtesy Mr. Cole
Whoever sent the infamous tweet from Kenneth Cole's Twitter account this morning unleashed a fury against the brand. For weeks we've been helplessly watching the horror unfold in Egypt and one tweet from a respected brand and our focus shifted. And what a shift!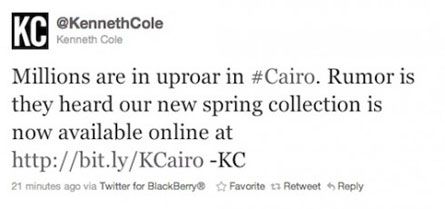 Cole's tweet, which was retracted within the hour and apologized for, has grown to monolithic proportions. A parody account for the Kenneth Cole brand was set up and at the time of this writing had more than 5,000 followers – and I am not linking to it because it's even more crass and offensive.
The Twitter apology: "I have removed this morning's tweet. Please visit this link to see my apology. http://on.fb.me/fCSf5Z -KC" The link delivered readers to his Facebook apology: "I apologize to everyone who was offended by my insensitive tweet about the situation in Egypt. I've dedicated my life to raising awareness about serious social issues, and in hindsight my attempt at humor regarding a nation liberating themselves against oppression was poorly timed and absolutely inappropriate."
The tongue lashing continued and continues still. Whether Cole can dig himself out of this or not is less important than what the rest of us can learn.
Last week in Las Vegas at the World Furniture Market, I spoke to furniture retailers about how to communicate a brand online. Yes, there are rules folks. No, your 13 year-old-daughter shouldn't be responsible for sculpting your brand voice. While most of this should be self-evident and common sense, let's go over the rules one more time – even if just for Ken's sake.
Be nice
You know better than to be mean to others in real life. So why do it on social media? Don't put down your competition on social media. If you want to get ahead, get better at what you do. Simple.
Share
Seems pretty simple idea but you'd be amazed at how hard it is for some brands to share. If your competition follows you on Twitter, why block them? They can only succeed if they're better at your job than you are, which means you have bigger problems.
Don't steal
Your competition runs a sweet promotion that super-charges his community – watch, learn and think of something even better. Stealing just labels you as a copy-cat. But even worse, you're letting him lead.
Don't make problems worse by hiding them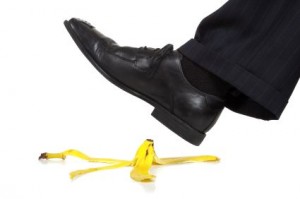 Someone writes on your Facebook wall how your product broke the day after it was purchased and the store won't take it back. Removing that comment is almost as stupid as what Cole posted. Social media is meant to be social. If someone has a problem, thank them for giving you a chance to fix it. Then offer to call them – nothing beats a call from a real person to get to the heart of the problem.
One caveat here. Your Facebook wall is your online home and while healthy discussion is expected, it's your home and your right to remove those who violate your rules.
Don't call names
Calling your customers (or competition) names or telling them they're wrong in written communication is stupid. Even if it's a personal email, don't do it. Ever heard of copy and paste?
In 1998 Kenneth Cole was named the People Magazine's sexiest man of the year. He's married to Maria Cuomo, daughter of New York's former governor, Mario Cuomo. Seems like he was born to all the right stuff – except maybe common sense….
Ever made a big mistake on social media you wish you could undo? How did you handle it? Any words of wisdom to avoid it all together?
Got social media questions? Follow me on Twitter, friend me on Facebook or connect with me on LinkedIn – I'm always on.