The story behind the stories
GoGirlfriend was born out of a desire to connect and share with women searching for travel information online. By furnishing honest reviews, personal stories, expert tips and slice of life features, GoGirlfriend has become the nerve center for destinations reaching out to female travelers. Add a splash of humor, spa and foodie reporting and that's GG.
We are the premium online resource dedicated to celebrating travel on your terms.
Up close and personal with GG readers
GoGirlfriend.com delivers in-the-know travel info in a chic, sassy style for women 35+. The whip-smart style of GG's writers connects them to the travel information they need to make the choices that suit their lifestyle.
In general, a GG reader:
Has her own money and strong opinions on how to spend it
Considers travel necessary to her well-being – not a luxury
Is young in her own mind – regardless of her real age
Is a hard worker and go-getter, but she makes time for play
Is as comfortable at chic restaurants as she at local hangouts – it's all about her
Age – 35-55 (median age 40)
Gender – Predominantly female (85% female, 15% male)
Education – College educated
Household Income – $75, 000+
Marital Status – 35% single, 27% live in households with children
LinkedIn for female travelers – the GG connection
GoGirlfriend addresses a key concern of mass-market review sites by maintaining a boutique-feel and respecting the female focus in every story published. Women are hungry for travel information and GG serves as the carry-on travel network the delivers information, entertainment and connection.
The demand for female-focused information served up in easy-to-digest stories is getting louder. It's all about what women want.
Women: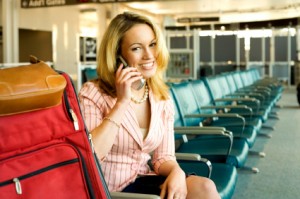 Represent 50% of frequent flyers
Represent 40% of business travelers
Make 70-80% of all travel purchases
Convert travel research into purchases at a higher rate than men
Research a destination (42%) prior to travel
It's a girlfriend thing
GG readers are the most important feature of the site. Everything GG does must add value to her travel research and make her life easier, richer and more fun.
GoGirlfriend's Community
GoGirlfriend.com
GoGirlfriend on Twitter – 250 followers
GoGirlfriend on Facebook – 250 likes
GoGirlfriend Blog on Facebook – 210 followers
Julia Rosien's Community
Julia on Twitter – 13,000+ followers
Julia on Facebook – 2600+ friends
Julia on YouTube – 10,000+ views
Julia on LinkedIn – 900 connections