Amazon Kindle VS Sony Reader
This story compared the Amazon Kindle to the Sony Reader early in its competitive release, listing pros and cons of both and encouraged feedback.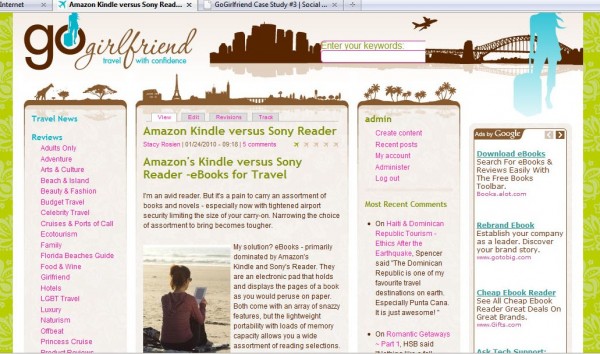 This type of article gives readers something to take home with them if they're researching before a purchase. It provides solid information they can use to ask questions – the right questions – when they're ready to buy. For companies who know their product outshines the competition, this type of article is ideal. With many purchases researched online first, not only does it give measurable brand awareness, it prequalifies shoppers before they're ready to visit a brick and mortar store.
Page views – 1,200
Time on page – 2.4 min
Top referrers – Google & Google News, Yahoo, Blogger.com, Bing
Links pointed to this page – 370
Top Keywords (with an average bounce rate of 45%)
Kindle vs Sony Reader – 202 (search resort visitors)
Sony Reader – 178
Kindle vs Sony – 159
Read through other Manufacturer Case Studies:
Review the Case Study details from GoGirlfriend: