5 Nudist Resorts that will Blow Your Mind
This article ~ 5 Nudist Resorts that will Blow Your Mind ~ explored the growing trend of naturism at high-end, luxury resorts. Five resorts were mentioned, in the Caribbean, California, Mexico and Spain – news sources from around the world picked up the story.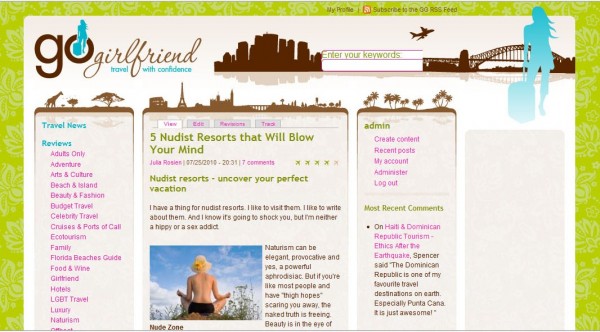 We linked heavily to Trip Advisor, encouraging readers to read how other travelers felt about the resort. We also posted links on the resorts that have a facebook and/or twitter communities – as well as our own communities social sites.
The reach of the article is still growing because of its rich use of keywords and the amount of links pointing to it as a credible source.
This type of article drills down important information for GoGirlfriend readers, explaining why one resort is better than another for different travelers. Is nightlife important or are you more focused on the culinary offerings?
Below are the metrics to date:
Page views – 7,000
Time on page – 2.3 min
Top referrers – Google & Google News, About.com, Stumble, Facebook, Canoe, The Independent (UK), Cyberpressse.ca (French)
Links pointed to this page – 370
Top Keywords (with an average bounce rate of 45%)
Nudist resorts – 806 (search resort visitors)
Nudist – 466
Nudist vacations – 59
Read through other Manufacturer Case Studies:
Review the Case Study details from GoGirlfriend: