Tourist Kidnappings on the Rise in Mexico
Tourist Kidnappings on the Rise in Mexico was published in March of 2008, during spring break for many college and university students. US Homeland Security issued a warning against traveling to Mexico because of the rise in aggression to American tourists. The topic was trending on Google and we were able to place the story at precisely the right moment to leverage the search volume.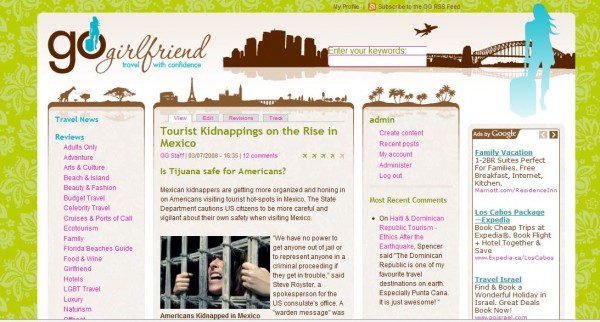 Other than the front page of GoGirlfriend, it is the most read page on the site. It is on the first page of Google search for three keyword phrases, highly searched terms for people considering a vacation in that country.
The value of sponsoring a newsworthy story like this is the long-term traction. Because the page is still so well visited, the links are incredibly valuable. Even ads on this page do better than any other page on the site.
Page views – 33,110
Time on page – 3.34 min
Top referrers – Google & Google News, CNN, MSN, Bing
Links pointed to this page – 201
Top Keywords (with an average bounce rate of 45%)
Mexico kidnappings – 3,442 (search result visitors)
Kidnappings in Mexico – 3,270
Mexico kidnappings tourist – 1,681
Read through other Manufacturer Case Studies:
Review the Case Study details from GoGirlfriend: