Singing in the Rain Video Release
Successful marketers know how to strike a nerve. Make you laugh, weep, think of someone you love. But what happens when you innovate the industry you're competing in and show the other marketers there's another way of doing it?
Instead of fitting their marketing campaign into the cookie cutter routines, Dove reminds women that they're beautiful because they're unique. Forget the airbrushing and botox – they don't digitally enhance their models. Until I was part of the making of one of their commercials, I was skeptical. Is real beauty beautiful enough for Dove to put their name behind?
You tell me…
Dove Video – Singing in the Rain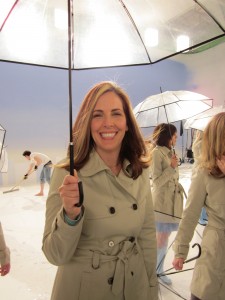 Two weeks ago, I traveled to Toronto with my daughter and 14 other amazing women to film the Singing in the Rain promo video I was nervous, scared and more than a little skeptical. But I was eager to discover where this new venture led.
Since writing my original post on the making of the video, I've thought a lot about why Dove's marketing message resonates so deeply with me. And I want to be clear, it's the marketing message we're discussing, not the products.
North American women suffer almost unilaterally from poor body image. Simply put, we don't think we're beautiful. For me, Dove's campaign represents a middle ground of letting us see real women in the media – with help from the hair and make-up department. Pictures aren't digitally touched up, so aside from the wonders of cosmetics, what you see is what you get.
While I love the Dove video, there are quite a few Dove images that ignite my love of this brand. What do you think? Did Dove go too far? Not far enough?
To comply with the long list of regulating bodies including the FTC and possibly even the Geneva Conventions and in the interest of transparency, compensation for this is sponsored post was provided by Dove Canada. Commentary and perspectives are those of Julia Rosien, Chief Idea Officer for SocialNorth.
Got social media questions? Follow me on Twitter, friend me on Facebook or connect with me on LinkedIn – I'm always on.